About us
A small tobacconist in Maastricht, specialized in tobacco pipes and we also have a wide selection of various pipe tobacco.
Since January 1, 1996 I started a shop for second-hand comics and CDs in the suburb of Limmel in Maastricht. Despite the fact that the former tobacconist was closed for 2 years, people still came to ask for cigarettes and tobacco. Little by little I have always added this to serve the inhabitants. After a few years, the sale of tobacco articles prevailed and I completely stopped comic books and music and became a fully-fledged tobacconist. Given the number of residents in the neighborhood, however, it was not profitable to make a living just from the store. I already had a reasonable collection of Zippo lighters with separate editions that I sold throughout the Netherlands by sending a photocopy of my offers to collectors. With the advent of the internet, already indispensable, I started selling through Ebay, followed by my own website. I also started adding other smokers' supplies and my love and interest in tobacco pipes started to grow. The tobacco pipe deserved its own website.
The tobacco pipe is now also prominent in my physical store and I receive pipe smokers every day. I love to share my passion with them.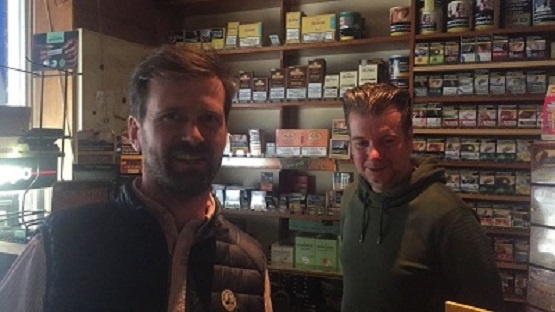 Antoine Grenard (Chacom) and me in my shop.